Cutting Edge Technology
Cutting Edge Equipment & Training
Today's dentistry offers each person the opportunity to have a healthy, beautiful smile. We provide state of the art dental care while maintaining strict infection control procedures. Frequent continuing education experiences keep us instep with the leading edge of dentistry. We believe that your dental treatment should last for many years. To this end, we strive to provide the highest quality care possible with an emphasis on disease prevention and dental health.
Dexis Digital X-rays
Digital X-rays can help your dentist spot a number of issues in your mouth, including decay and possible bone loss. Dentists also use this imaging during treatment planning. To capture a digital image, your dentist first will put a sensor or phosphor plate in your mouth before taking a digital X-ray. This sensor allows the image to be viewed on a computer screen, where it can be adjusted for contrast and brightness, allowing for optimal diagnosis.
The digital X-ray process is much faster than traditional X-ray systems, decreasing your radiation exposure and eliminating potential treatment disruptions.
Dexis Intraoral Camera
With an intraoral camera, your dentist will be able to spot problematic areas in your mouth, such as fractured teeth, receding gums, and broken restorations. An intraoral camera also is used to help you better understand the condition of your teeth, and why your dentist is ordering a specific treatment or procedure.
An intraoral camera looks like a wand or pen. Its images can be displayed on a computer screen for easy viewing by the patient and doctor.
Picasso Lite Dental Laser
A dental laser is an instrument that produces a very narrow, intense beam of light energy, which is used to help remove or shape tissue in the mouth. Your dentist may use a dental laser for tooth-whitening procedures, gum disease therapy, the detection and removal of tooth decay, and the detection and filling of cavities. Your dentist also may use a laser to remove lesions from your mouth or relieve canker sore pain. These lasers can reduce symptoms and the healing times associated with a number of dental therapies, as well as help control bleeding and reduce the prevalence of mouth bacteria in diseased gum tissue and tooth cavities.
DIAGNOdent – Laser Caries Detection Aid
More and more patients place value on healthy and attractive teeth. In order to maintain them, the earliest possible care is essential. DIAGNOdent aids in the detections of caries. Even very small lesions are detected at the earliest stage, enabling you to protect and preserve the tooth substance.
The Most Comfortable Dental Visit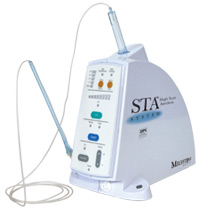 The STA™ System is an incredibly precise anesthesia delivery system which will greatly increase your comfort during a vast range of procedures.
Procedures such as:
Crowns
Trimming Gums
Fillings
Root Canals
And More!
Proven to Increase Comfort – Our STA System is clinically proven to maximize your comfort level. It sends detailed real-time information to your doctor so the injection is precise and fast.
Minimizes "Numb Mouth" After Your Visit – A mushy mouth may be funny for others after your visit, but for you it's just annoying. STA allows single-tooth anesthesia, so the rest of your mouth will function normally when your visit is complete.
Enables Faster Procedures – Since anesthesia is immediate, the dentist has the opportunity to perform procedures that typically needed more than one visit, saving your valuable time.